welcome to the club ? - Ein Rom-London-Paris-Moskau-Berlin-Timelinepropertymapping(2070)
Gastdozentur Städtebau
Jeanne Astrup-Chavaux
Valentin Billhardt
Sarah Bovelett
Emil Brechenmacher
Polly Bruchlos
Kenichiro Endo
Diana Fügener
Alissia Hoffmann
Veronika Janovcova
Simon-Jannis Kimmel
Lorenz Kuschnig
Ivan Leroy
Tobias List
Jierong Lyu
Aimeé Muriel Michelfelder
Leon Parasin
Helene Peters
Philipp Preiß
Richard Prugger
Nathan Reichenthal
Steffen Sasse
Josef Schneble
Polina Svetlitskaya
Johannes Wagner
Anne-Katrin Warter
Anna Zozulya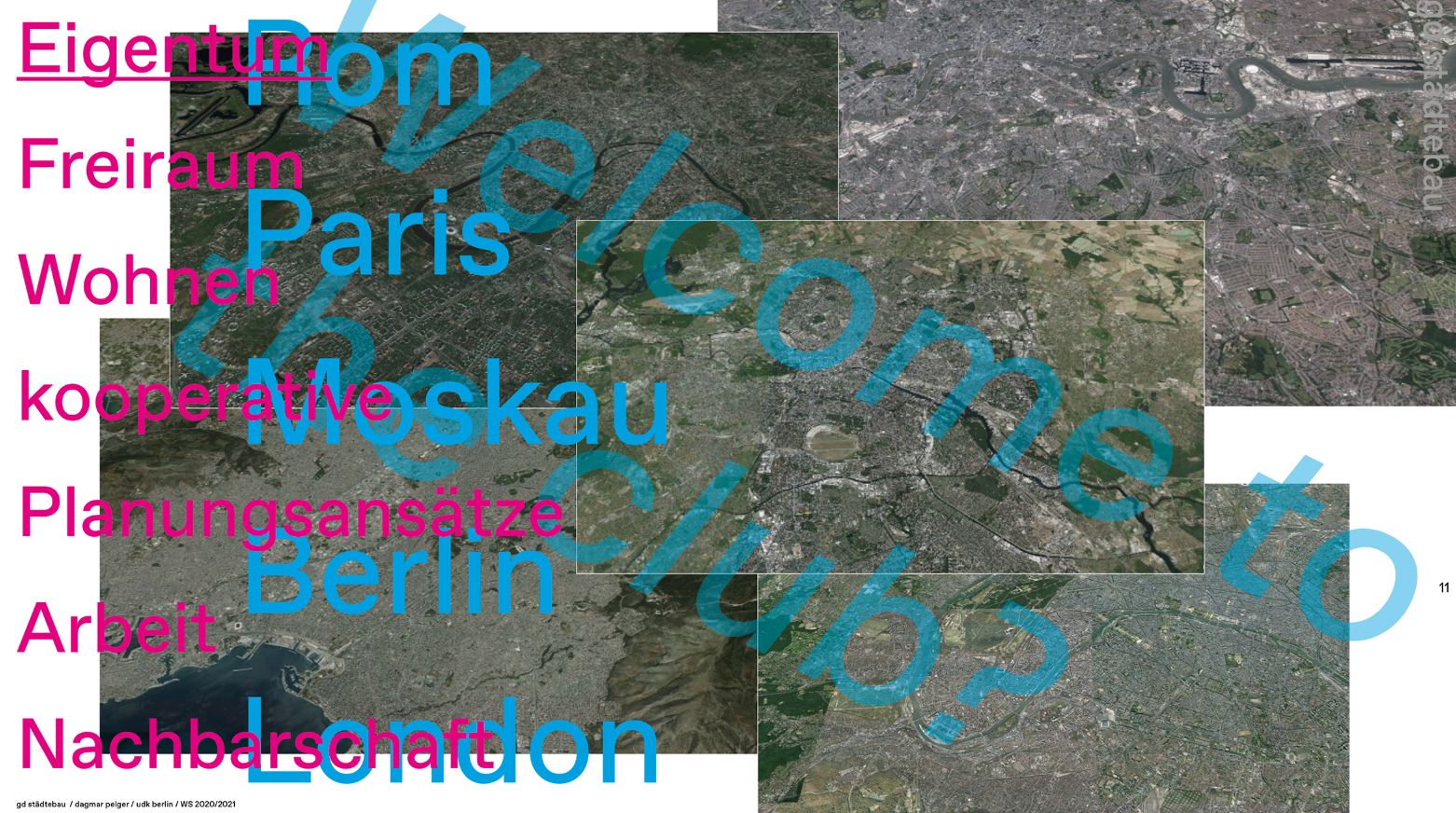 Wie lassen sich urbane Raumproduktionen jenseits von Öffentlich und Privat als inklusive Spatial Commons von exklusiven Spatial Clubs unterscheiden? Wem gehört Rom-London-Paris-Moskau-Berlin (2070)? In einem Recherche- und Kartierungsseminar haben wir – in Rückkopplung mit historischen Referenzen aus der Vorlesung und Inputs zu relevanten Modellprojekten zeitgenössischer Stadtentwicklung in Berlin – gemeinsam virtuelle Forschungsreisen in vier grosse Städte unternommen um diese mit Berlin zu vergleichen. Anhand der Kartierungsebenen Eigentum, Freiraum, Wohnen, kooperative Planung, Arbeiten und Nachbarschaft wurden Raumsysteme anhand ihrer politischen Ökonomien erfasst, interpretiert, verglichen und spekulativ in die Zukunft projiziert.
Common Optimism - But Berlin is Clubbing
https://welcometotheclubberlin.vercel.app/
Jeanne Astrup-Chavaux, Polly Bruchlos, Kenichiro Endo, Alissia Hoffmann, Tobias List, Jierong Lyu, Philipp Preiß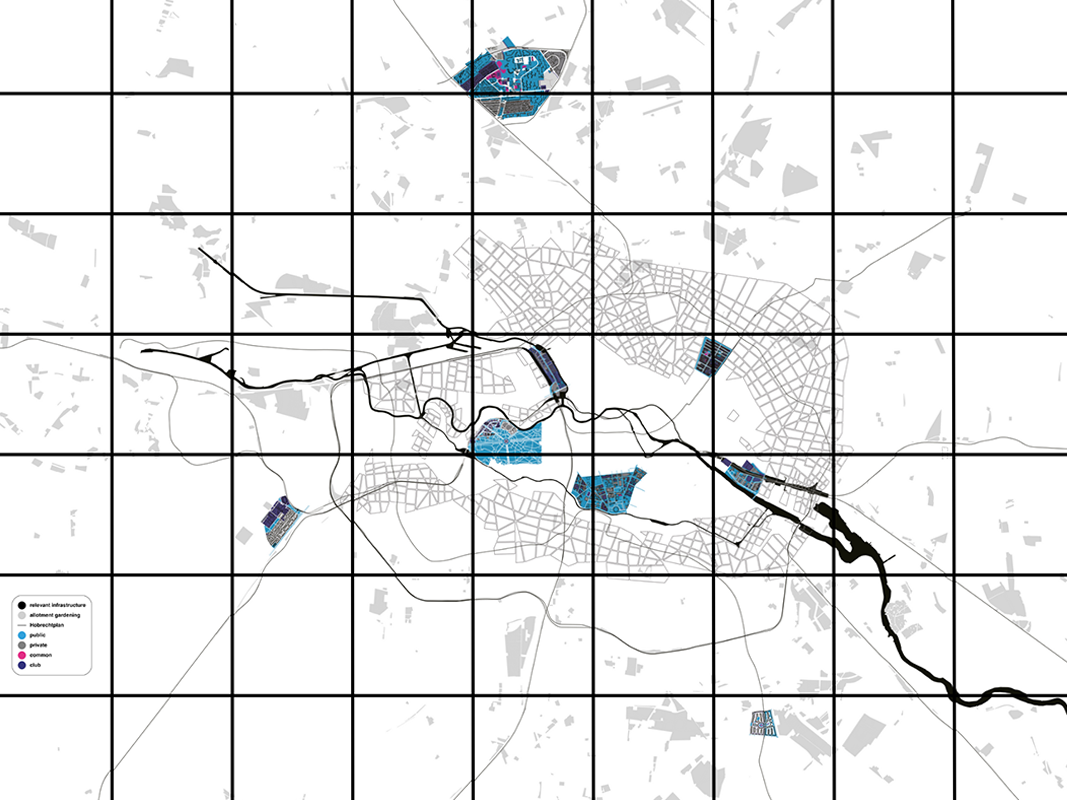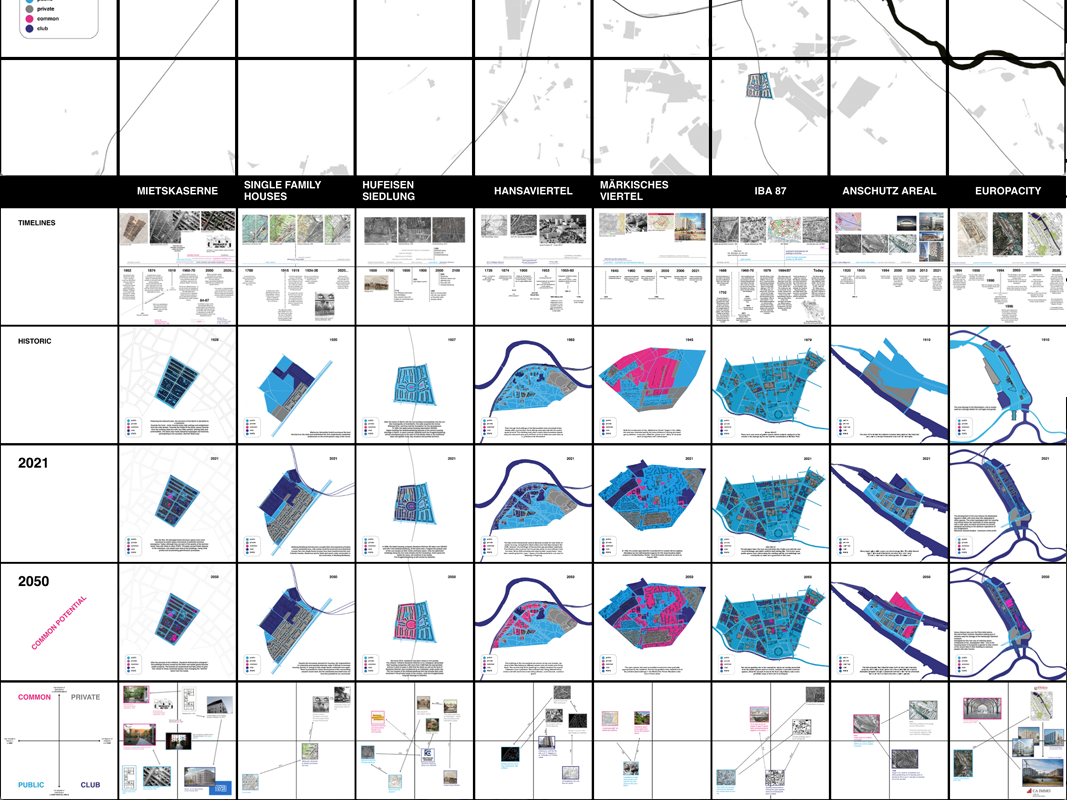 Welcome to the Club-Rug
Sarah Bovelett, Lorenz Kuschnig, Aimeé Muriel Michelfelder, Leon Parasin, Steffen Sasse, Polina Svetlitskaya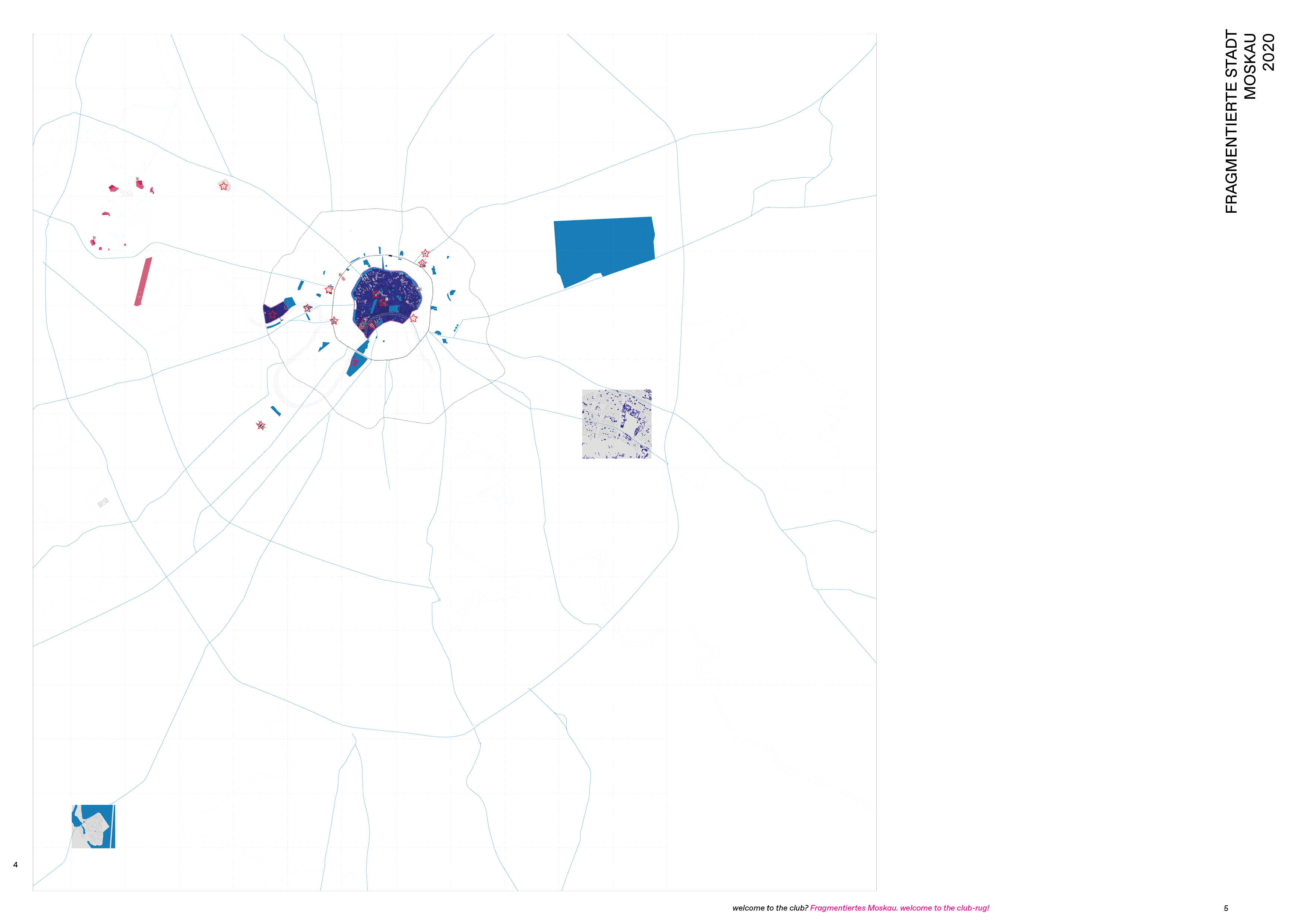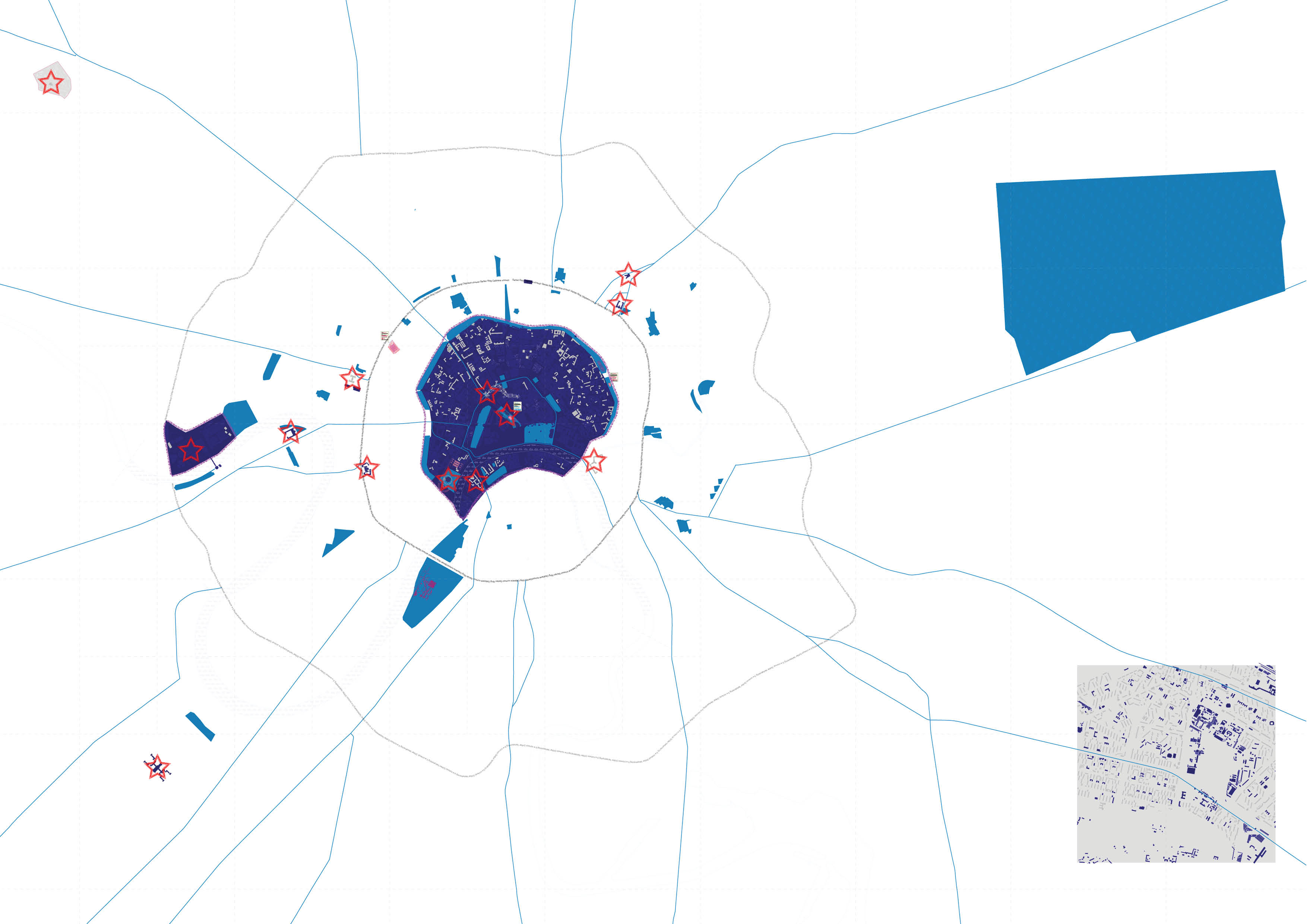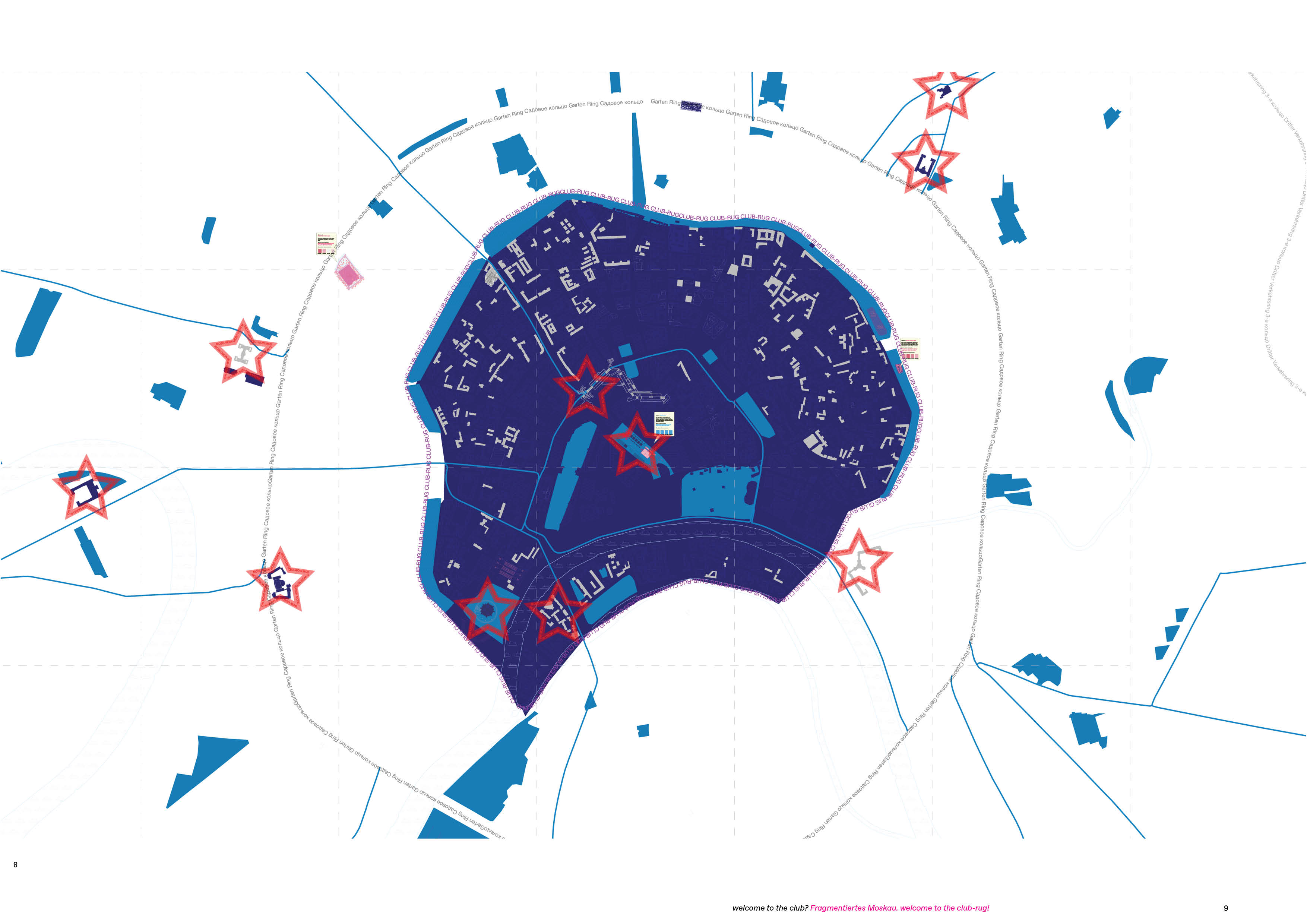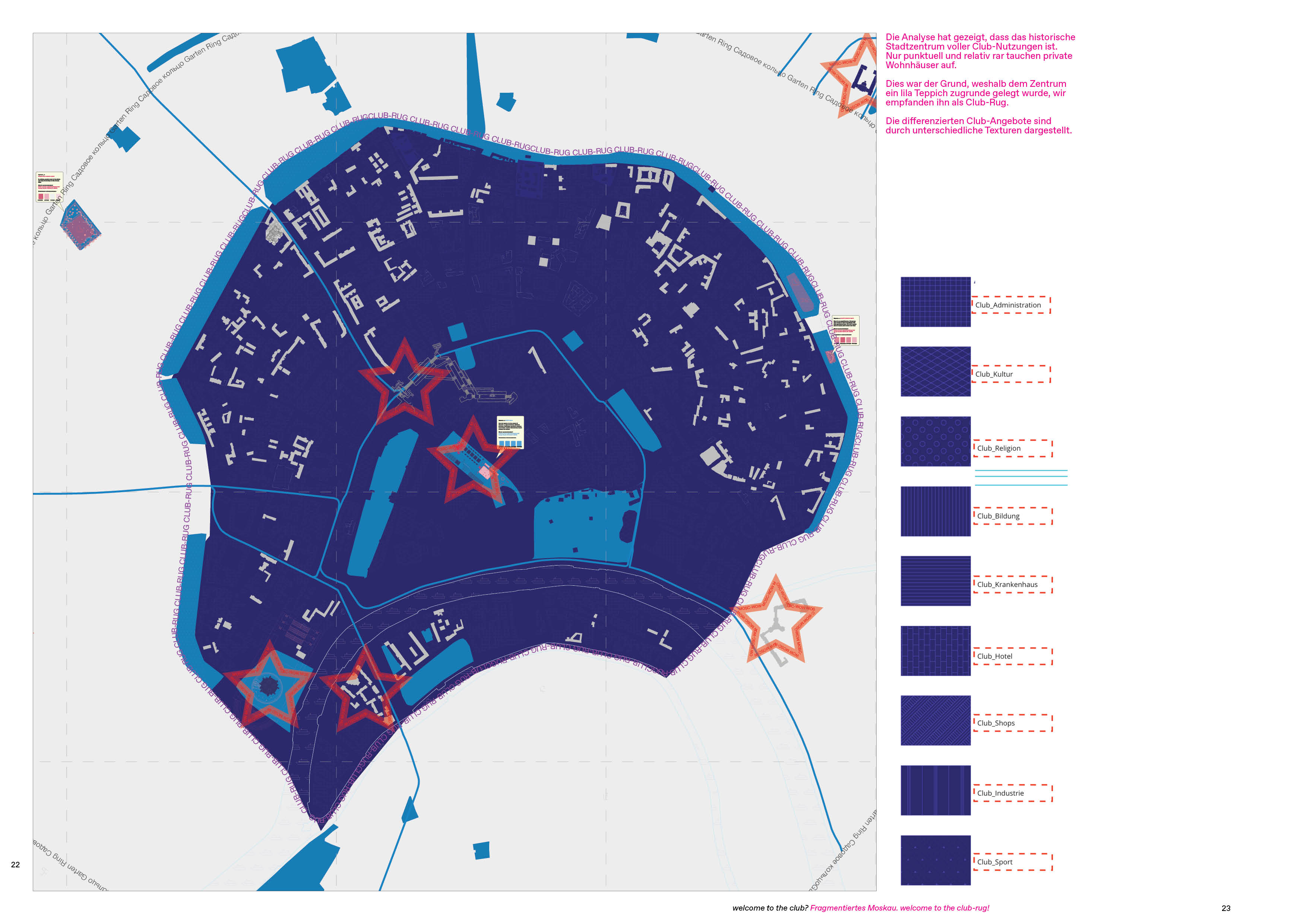 Die vier Farbecodes - lila=Club, pink=Common, blau=Öffentlich und hellgrau=Privat - erscheinen teils uni, teils gemischt und überlagert, in Flächen oder Linien.
Uni bedeutet die alleinige Nutzung gemäss Farbcode. So sind beispielsweise alle Wohngebäude in der Peripherie hellgrau, da in diesen Häusern nur gewohnt wird. Es gibt keine weiteren Nutzungen oder Läden im Erdgeschoss.
Das Überlagern einer semi-transparenten Schraffur auf einer uni-farbenen Fläche bedeutet, dass beispielsweise der Boden einer Club-Nutzung entspricht, aber durch gewisse Aneignungen zu einem Common werden kann.
Piktogramme in einer bestimmten Farbe geben Hinweise auf die spezifische Nutzung, die mit dem Farbcode des Bodens übereinstimmt, sich aber auch unterscheiden kann.
Farbähnliche Texturen beschreiben den Ort genauer und vermitteln die mögliche Nutzung vor Ort.
Alle Wege führen aus Rom
Emil Brechenmacher, Simon-Jannis Kimmel, Richard Prugger, Josef Schneble, Johannes Wagner, Anna Zozulya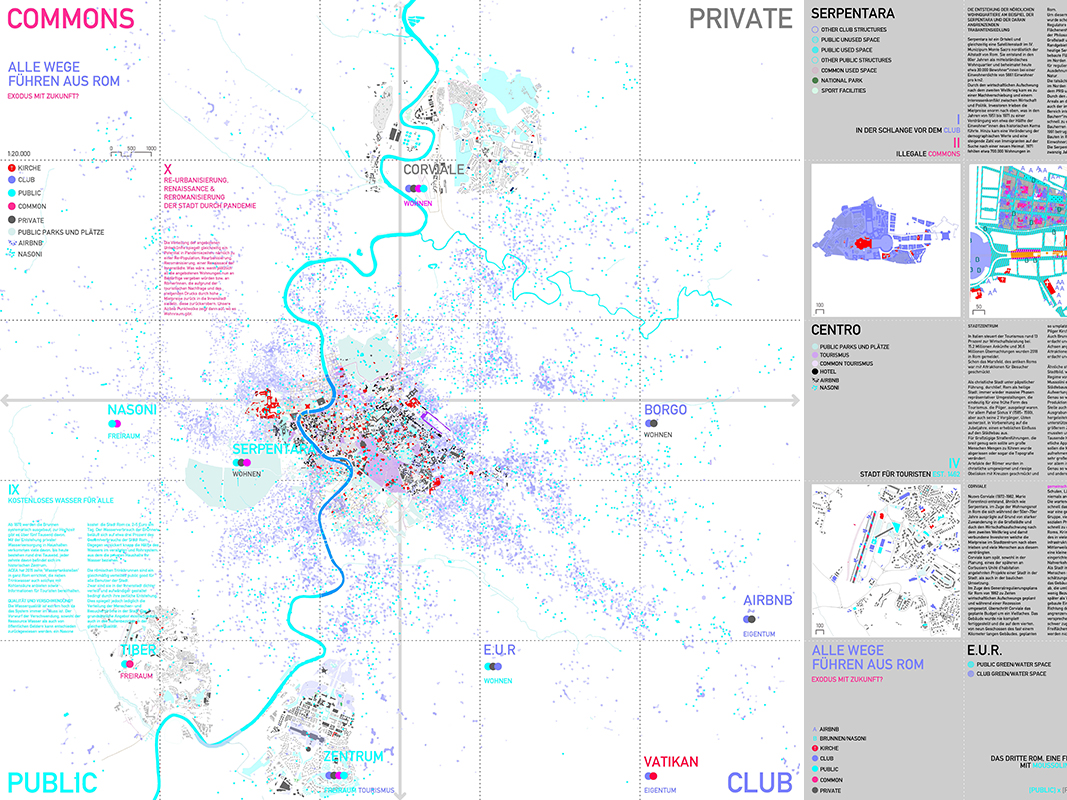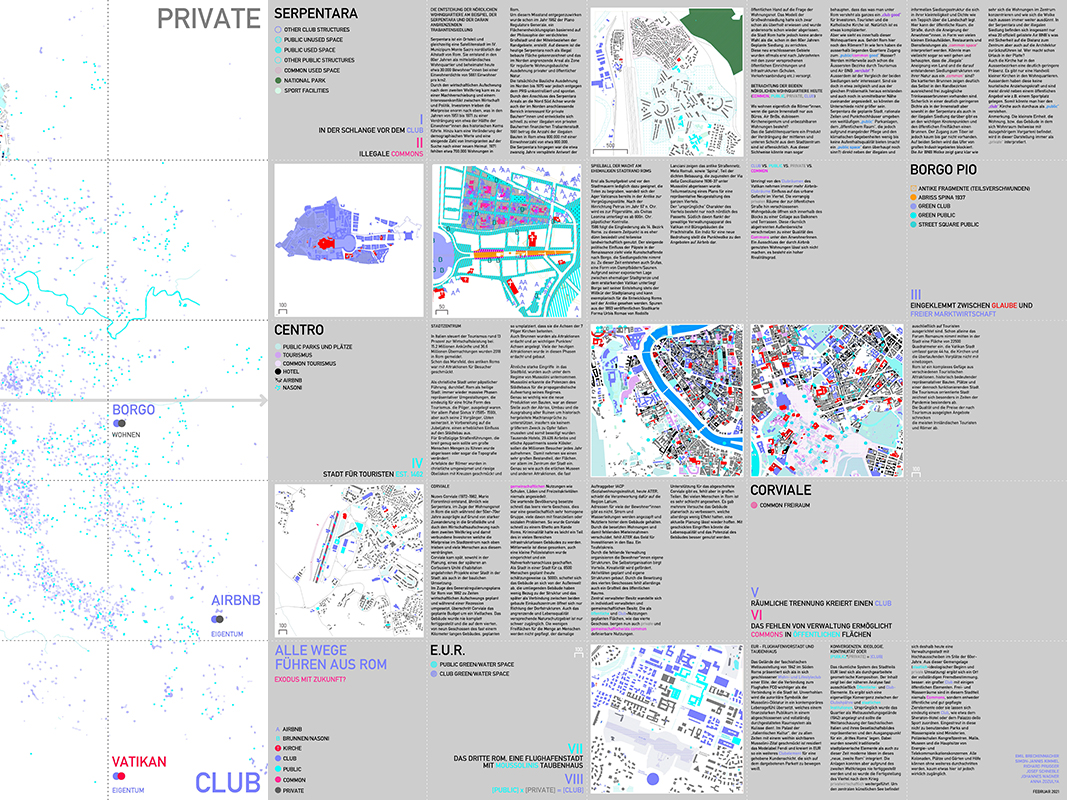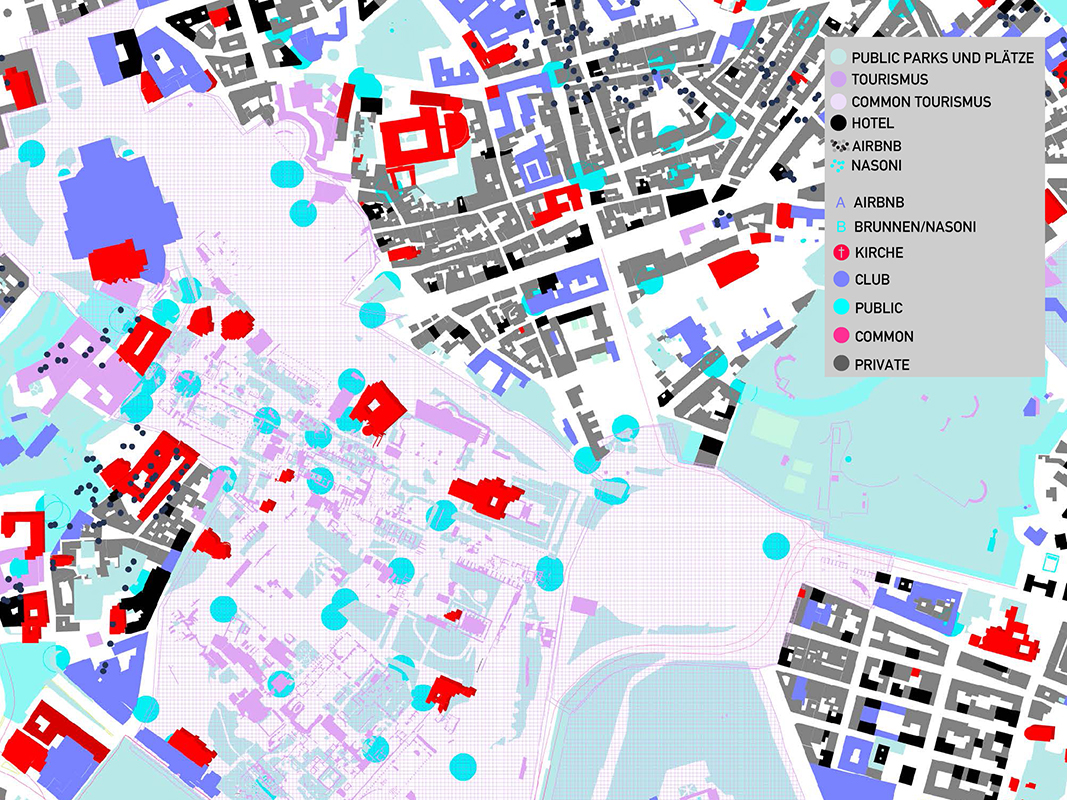 Paris Properties
Diana Fügener, Helene Peters, Nathan Reichenthal, Anne-Katrin Warter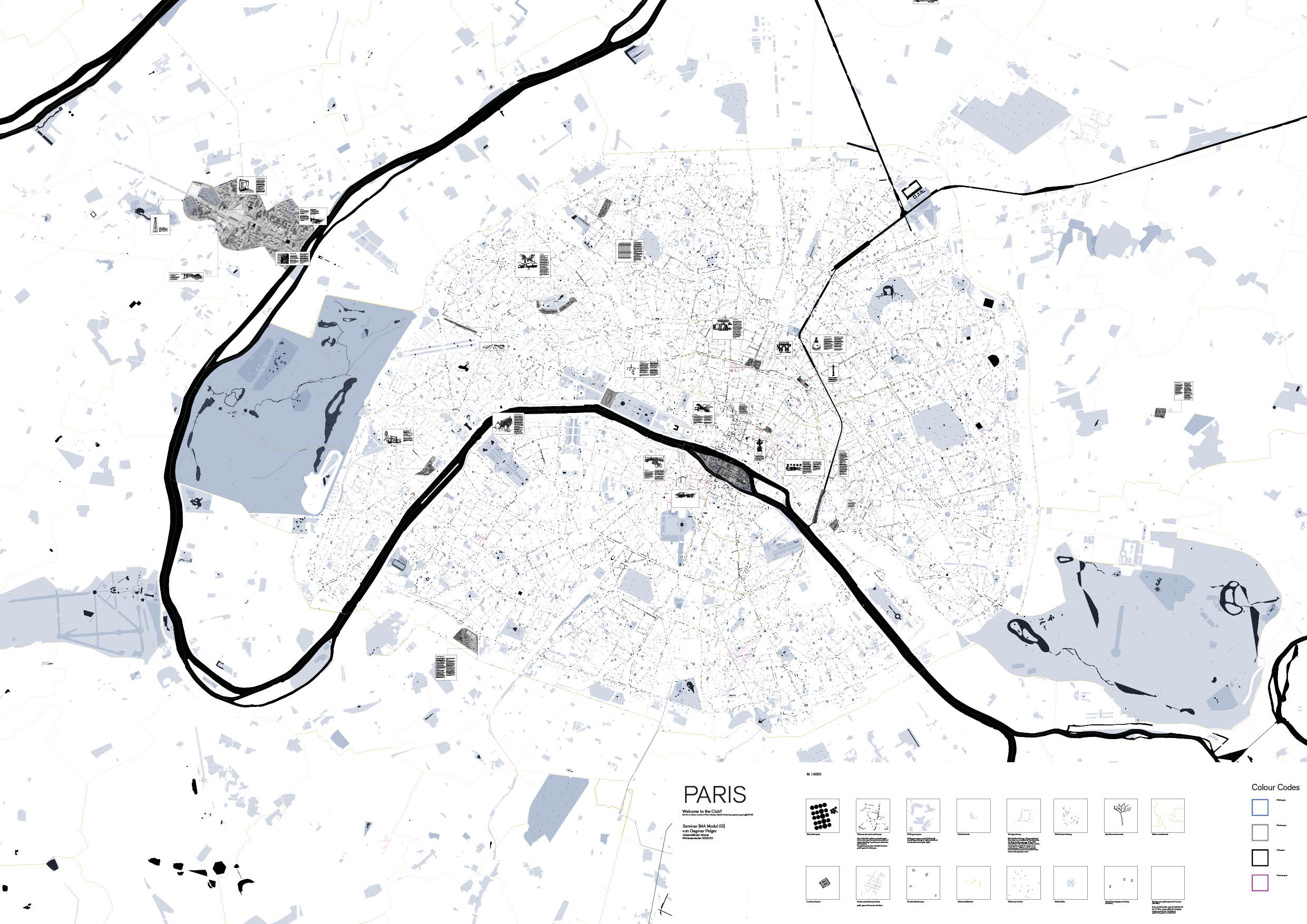 Paris is a city of proud public spaces - but does being government owned mean they are equally accessible to everyone?
According to Paris weekly l'Express, a new book* lists who owns the 87,836 buildings in the capital by arrondissement (district). It also estimates the total monetary value of Paris' real estate – 700 billion euros. That's the equivalent of the Netherland's GDP in 2012.
The city's turbulent history since the French Revolution has created multiple seismic shifts in real estate ownership. Before 1789, the church owned 55% of Paris; it now owns 0.3% – despite the widespread belief that the church is still a major property owner. The aristocracy owned 35%; now they have all but disappeared from the radar screen. At the turn of the 20th century, powerful and wealthy families owned a staggering 90% of the city; today they hold 16%. Here, it is simply the cost of renovating old buildings that prompted a massive sell-off.
Between 2007 and 2012, the French state sold off real estate across the country valued at 4.5 billion, much of it in Paris. Some of the state's properties are national treasures but, if you could buy them, how much would you have to shell out?
The question of "who owns the city?" is central to the evolution of societies – because space is just as vital to human life as air and water. And yet cities rarely cooperate with their citizens to determine this allocation. And though this would surely be a complex process, what else is there to be done? There is simply no alternative to politicising the soil itself.
In the shadow of the land speculation juggernaut, how have Parisians been developing alternative forms of – communal – access to the this essential resource: space? And how successful are they in reaching their goal?
Perhaps it starts with 'open' resources. The Seine, Paris' bisecting river, creates a clearing in the heart of the city. It supplies the profound relaxation citizens feel near water, along with an expanse of open air and sky. But the surface of the water itself is mostly exclusive: accessible only by the private and club spaces of boats. A variety of initiatives and traditions of informal use are challenging this exclusivity by crossing these borders, even if only temporarily.
Another 'open' resource, the city's green parks are strictly regulated. Entrance is often restricted after sunset, keeping Parisians out with ornate iron gates, dating back to Napoleon III's Hausmann era. Though beautiful, they manifest the rigid ideal of a well-sorted, ordered city.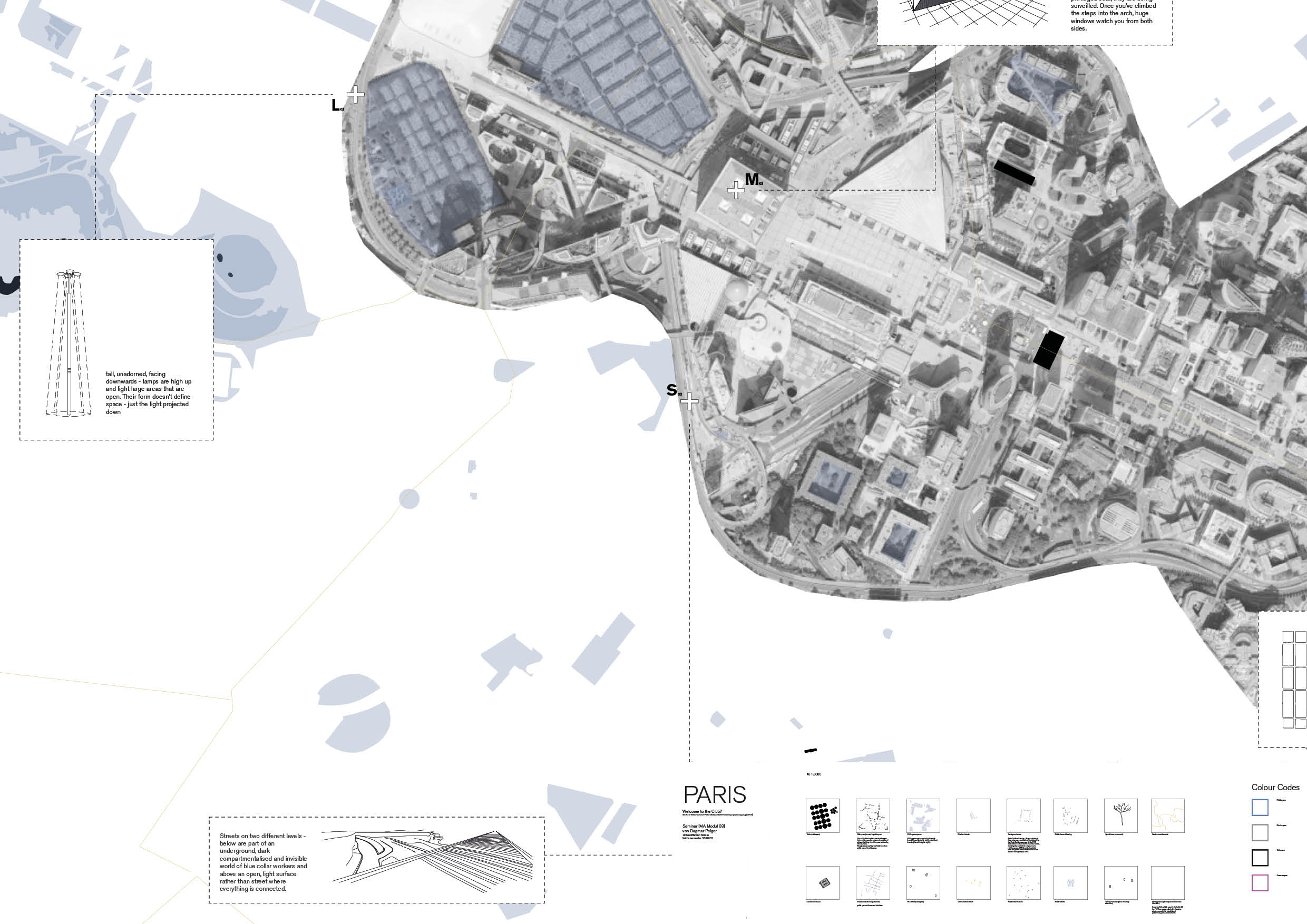 This map reveals the network of elements that shape urban life, their placement, as well as characterisations of their spatial and symbolic influence on the city. Everything from how lanterns influence the city of light to how cafe's encroach on the pavement to extend their seating. These influences are at times ambivalent and at times quite clear.
While reading – or better: while exploring – the map, several comparison follow the idea of cross-reading the city. How do certain links between certain spaces, objects, or subjects emerge?
The map intends to shows an interpretation of the Paris we know today. Open data helps to imagine how the city grew and developed, and it became a basis to look more closely to how it might be possible to blur the hard lines of this seemingly well-constructed space and hence should aim towards an open discussion.